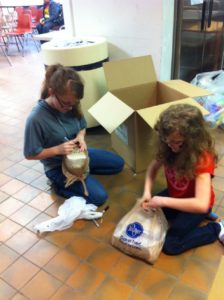 We have two hands.  The first one is to help ourselves; the second one is to help others. ~ Proverb
One of my favorite things about volunteering is meeting folks of all ages who have a passion to make life better for others.
Delores, one of our faithful adult volunteers, recently introduced us to her granddaughters. Victoria (15) and Bridgette (11) jumped right in and got busy counting and sorting diapers, greeting clients, taking and filling orders, and making sure each child walked away with a book.  They even helped a few little ones make the perfect book selection!  Watching them interact with the parents and their children was both heartwarming and inspiring.  Kudos to Delores for modeling the importance of serving the community to her family members.  We were thrilled that they joined us and hope to see them again at The Diaper Train! (I have it on good authority that both girls loved it)!
Would you like to spend some time with us?  We'd love to see you!  Volunteer Sign-up Link
SaveSave
SaveSave