Alone we can do so little.  Together we can do so much.
Helen Keller
Seventeenth century English poet John Donne penned this eternal truth: "No man is an island entire of itself; every man is a piece of the continent."  In other words, no one is truly self-sufficient; we rely on others in countless ways.  The part is never greater than the whole.
DID YOU KNOW?
Our interconnectedness with others who care is what builds and sustains thriving communities.  The Diaper Train, along with over 240 other community-based diaper banks, is fortunate to be a community partner of The National Diaper Bank Network (NDBN), a national 501 (c) (3) nonprofit formed in 2011 to eliminate diaper need in this country.
Not only does The NDBN bring national attention to diaper need through education and outreach, it also connects and provides support to community-based diaper banks by generating donations of dollars and diapers to keep babies clean, dry, and healthy.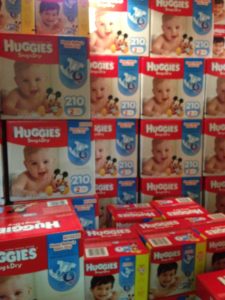 Huggies supports the NDBN as its founding sponsor.  As a community partner of the NDBN, The Diaper Train receives a large truckload of Huggies diapers each year.  The 2015 generous shipment of over 300,000 diapers is essential to our ability to address the diaper need here in Wake County.
The NDBN also provides many other resources to support community-based diaper banks, including an online conference for diaper banks across the U.S., an online discussion group for sharing ideas, and webinars on topics like fundraising, board development, and volunteerism.
In 2014, The Diaper Train received a grant of $1,500 for website development as part of NDBN's "Funds for Change" program.
Thanks to the generosity of The NDBN, The Diaper Train and others like us are thriving parts of the whole who are meeting serious needs in our communities and changing lives, one diaper at a time.
HELP US SAY "THANK YOU!"
Follow NDBN on Twitter and Facebook to help spread awareness.  Subscribe to its informative newsletter here: http://www.tfaforms.com/241328.  Read Executive Director Joanne Goldblum's CNN's post on addressing diaper need here:  http://www.cnn.com/2013/05/10/opinion/goldblum-diapers.
SaveSave