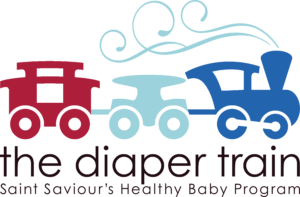 The Diaper Train provides diapers to low-income families in Wake County, improving the lives of babies and toddlers. The program is run by volunteers and serves 1,000 individual children each month, and receives 10,000 visits each year.
The Diaper Train began in November 2010 as the first diaper bank in Wake County.  The first year we distributed  65,000 diapers to crisis centers. Now our annual distribution averages 500,000 diapers per year, and we serve both agencies and individual families in need.  Referrals are required.
Did You Know...
WIC and Food Stamp programs do not cover diapers.
Diapers can cost a family nearly $100 a month per child.
1 in 3 parents has had to choose between buying diapers and food.
Most childcare centers, even free and subsidized facilities require parents to provide a
day's supply of disposable diapers.
Ways You Can Help the Diaper Train
More than
diapers distributed since January 2011.
Diaper Train
Healthy Living for Seniors
Diaper Train
Work Day
Event Volunteer
Annual Fundraiser
Yarn Drive
Book Drive
Host a Diaper Drive
Parking
Weather Policy
Resident Nonprofit Organizations
Contact Us
616 Tucker Street
Raleigh, NC 27603
Phone: 919-833-6400
Fax: 919-833-5500
Keep in touch to find out what we're doing and how you can help!