The Diaper Train needs diapers in all sizes and baby wipes. We also collect gently used books for ages 0-6, as families visiting The Diaper Train may select books to take home for each child.
Diaper Drives can be hosted by businesses, schools, congregations, civic groups, and neighborhoods. They are a great way to get youth and children involved in community service. Donations from diaper drives are essential to The Diaper Train's ability to serve thousands of babies each year.
There are so many ways to host a diaper drive! Contact us to learn more!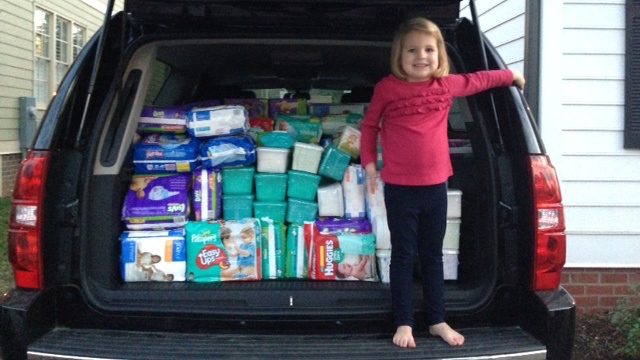 Recent Diaper Drives
Athens Drive Baptist Church
Broughton High School
Cary High School
Christ Church
Cisco Systems
Edenton Street United Methodist Church
First Baptist Church/li>
First Presbyterian Church
Grove Street Preschool
Hillyer Memorial Christian Church
LM Restaurants
Jodie Murphy and friends
National Charity League
Paramount Building
Raleigh Moms Care
RMB Consulting
St. Francis Preschool
St. Michael's Episcopal Church
TriMark Digital
Wake Forest Moms Group
Westminster Presbyterian Church
Whitaker Mills/Wells Road neighborhood
White Memorial Presbyterian Church 616 Tucker Street
Raleigh, NC 27603
Phone: 919-833-6400
Fax: 919-833-5500
By submitting this form, you are consenting to receive marketing emails from: Saint Saviour's Center, 616 Tucker Street, Raleigh, NC, 27603, https://www.saintsaviourcenter.org. You can revoke your consent to receive emails at any time by using the SafeUnsubscribe® link, found at the bottom of every email. Emails are serviced by Constant Contact