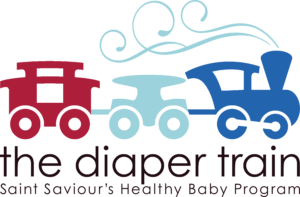 The Diaper Train distributes diapers to families referred by one of our partner agencies.  Families must live in Wake County and have a written referral from an approved agency.
Frequently Asked Questions
I'm new to The Diaper Train.  How does it work?
You need a referral for your first visit only.  Approved referral agencies include:
Any program through Wake County Human Services, such as:

WIC
SNAP
CC4C
Nurse Family Partnership
Maternal Health
Wake County Public School Nurse
A Health Care Provider such as:

Wake Med Pediatrics
Neighbor Health Centers
Advance Community Health
Alliance Medical Ministries

Raleigh Housing Authority.  If you live in an apartment owned by RHA, see your property manager for a referral.
You can return once every 4 weeks until your child's 3rd birthday or your child is toilet trained, whichever comes first.
You must bring a photo ID every time you visit.
How long does my referral last?
We will keep your referral on file for 3 years.  After that, if you still need our services, you will be asked to get a new referral from an approved agency.
What if I have another child?
For current program participants, we simply require that you bring documentation from the hospital as verification for your newborn.
What are your hours? 
The Diaper Train is open for curbside service on Tuesday and Thursday mornings, 9:30 - 12:00.
Where are you located?
We're inside Saint Saviour's Center at the corner of Tucker Street and Boylan Avenue in Raleigh.  Our parking lot faces the 500 block of Boylan. Click here for a map.
For more information, contact us at info@saintsaviourcenter.org
El servicio de entrega de pañales "Diaper Train" o "Tren de pañales" distribuye pañales tipo "pampers" a las familias que han sido referidas por alguna agencia. Las familias deben vivir in el Condado de Wake y tener un referido por escrito de una agencia de nuestra lista.
Preguntas frecuentes
Es mi primera vez en el "Diaper Train" or "Tren de pañales" ¿Cómo funciona?
Usted necesita un referido solo para su primera visita. Puede conseguir un referido en alguna de estas agencias:
Cualquier programa de los Servicios Sociales del Condado de Wake (Wake County Human Services), por ejemplo:

WIC (Programa Especial de Nutrición Suplementaria para Mujeres, Infantes y Niños; Women, Infants, Children Supplemental Nutrition Program)
CC4C (Coordinación de cuidados para niños, Care Coordiantion For Children)
Nurse Family Partnership (Alianza de enfermeras y familias)
Maternal Health (Salud de la madre y el bebé)
Wake County Public School Nurse (Enfermería de las Escuelas Públicas del Condado de Wake)
Ministerios del Área de Garner (Garner Area Ministries). Esta agrupación reúne a voluntarios que proveen servicios para personas que están pasando por una dificultad económica.
La Autoridad de Vivienda de Raleigh (Raleigh Housing Authority o RHA). Si usted vive en un apartamento de la RHA, puede conseguir un referido con el administrador del edificio o condominio ("property manager").
Usted puede visitar el "Train Diaper" cada 4 semanas, hasta que su hijo o hija cumpla 3 años, o hasta que su hijo o hija ya no necesite los pañales (la opción que ocurra primero)
Usted debe traer un documento de identidad que tenga su foto (licencia de conducir, pasaporte) cada vez que nos visite.
¿Cuánto tiempo dura mi referido?
Vamos a tener su referido en nuestros documentos por 3 años. Después de eso, si usted todavía necesita pañales, necesitará traer un nuevo referido de una agencia con la que trabajamos (como las mencionadas en la pregunta anterior).
¿Qué pasa si tengo otro bebé?
Si usted ya está participando en nuestro programa, solo debe traer un documento del hospital verificando el nacimiento de su bebé.
¿Cuál es el horario de atención?
El servicio de "Diaper Train o "Tren de pañales" está abierto los martes y jueves en la mañana, de 9:30 am a 12:00 pm. El servicio es a través de "curbside," usted se debe quedar en su carro y un voluntario o voluntaria se va a acercar a ayudarle.
¿Cuál es la ubicación?
Estamos en el Centro de Saint Saviour en la esquina de Tucker Street y Boylan Avenue, en la ciudad de Raleigh. La entrada del estacionamiento es en 500 Boylan. Haga click aquí para ver el mapa.
Para más información puede contactar at info@saintsaviourcenter.org