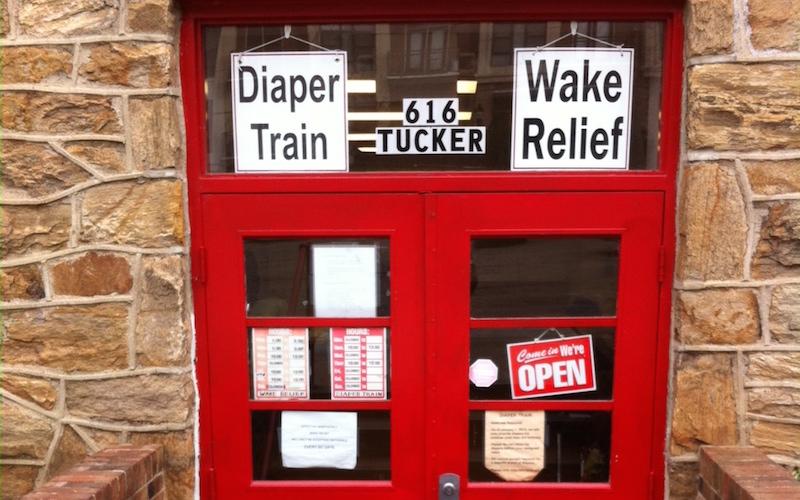 The need is great; the moment is now! Climb aboard The Diaper Train!
On Tuesday and Thursday mornings throughout the year, moms and their little ones (and occasionally dads and grandparents) form a line outside the bright red basement doors of Saint Savior's Center in downtown Raleigh, awaiting entry to The Diaper Train, where they'll be given a free 10-day to 2-week supply of disposable diapers and wipes.
The need is great.
Brought to life in 2011 by Allene Adams and Cameron Ellerbe, Wake County's first diaper bank and program of Saint Savior's Center was born after the two Christ Episcopal Church members learned of a nationwide need for disposable diapers that hit close to home, right here in Raleigh.
Each month, Diaper Train volunteers or one of our 12 partner agencies provide 55,000 diapers to 1,000 children aged 2 and under who have been referred to us by one of the 4 approved referring agencies. Last year we distributed 658,000 diapers, and since 2011, our grand total distribution is just over 1.4 million diapers placed into the hands of low-income families.
Costing as much as $100 per month per child, diapers are a necessity – along with food, clothing, and shelter – that 1 out of 3 families struggles to purchase. Even though public assistance programs and food stamps are available to these families, diapers are not covered.
Diaper insecurity joins both food insecurity and unstable housing as a leading cause of maternal stress and depression, according to a 2013 national study conducted by Yale University and the National Diaper Network.
When faced with diaper need, many parents choose to go without food or gas or forgo paying rent and other bills. Since most licensed day care centers require parents to provide a continuous supply of disposable diapers, those who cannot end up missing work or school to stay at home with their child, and this fuels a vicious cycle: No day care, no work. No work, no income. No income, no economic stability. Many moms resort to making trade-offs that can endanger their child's health, like trying to make one diaper last all day, which often results in urinary tract infections and diaper dermatitis, a painful and persistent rash. An unhappy baby makes for an unhappy mom. It's important not to downplay how this adds up to high levels of stress, depression, and anxiety for the mom. The Yale study found that mental health issues were actually more pronounced in mothers who had no access to a reliable diaper supply than for those who reported food insecurity. The mothers interviewed explained that they felt like failures when they couldn't communicate their love to their children by keeping them clean, dry, and comfortable. An unhappy mom makes for an unhappy baby. Not surprisingly, maternal depression impacts a child's achievement in school and can also contribute to child abuse.
Yet an act as seemingly small as providing diapers on a regular basis has a huge, positive ripple effect. Be a part of the change!
The moment is now! Won't you climb aboard?
The Diaper Train continues to grow by leaps and bounds! To keep us chugging along, we count on local churches, businesses, schools, civic organizations, and individuals like you to keep us fueled up and ready to roll.
Here are few simple ways you can help and have fun at the same time:
Are you the active type?
Host a diaper drive
Throw a party and invite guests to bring disposable diapers and wipes in lieu of gifts
Have a bake sale and spend the proceeds on diapers
Host a book drive and collect books for children ages 0 – 8 (we give out books with diapers)
Have a blast volunteering with us on Tuesday or Thursday from 9:45 a.m. – noon
Or do you prefer to let your fingers do the talking?
Go to amazon.com, check out our wish list, and click to purchase
Make a financial gift; checks can be made out to St. Saviour's Center (please write Diaper Train in the memo line)
Like us on Facebook and tweet about us on Twitter (encourage your friends to donate diapers or dollars)
Do you have a blog? Link it to our website!
The Diaper Train: Changing diapers, changing lives
SaveSave
SaveSave
SaveSave
SaveSave