A North Carolina native, Chance moved to the Triangle area in 2011 with his wife, Abby.  With a BS from Elon University and a MA from the University of Mississippi, Chance is the newest member of Saint Saviour's Center, bringing 15 years of experience in business and program development.
When not at SSC, you can find Chance running, spending time with Abby and two kids, and with the family pup, Rowan!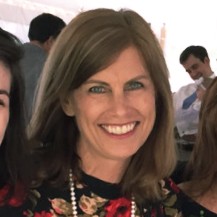 As a graduate of the University of Southern California, Lisa settled in the Triangle in 1994 before joining Saint Saviour's Center as the Program Coordinator in 2017.  Lisa has previously volunteered with SSC's resident programs and has served as a board member for Saint Saviour's and Wake Relief.  Lisa coordinates all aspects of of our Diaper Train and Senior Healthy Living Programs.
When not at Saint Saviour's you can find Lisa studying towards her 500-hour Yoga Certification, spending time with her husband, Jeff, and attending services at Christ Church Episcopal Church in Raleigh.